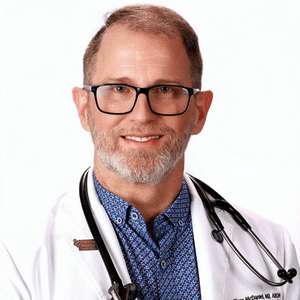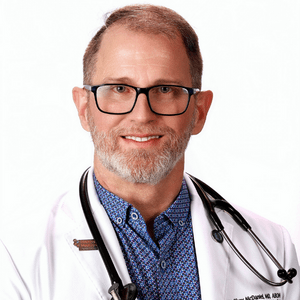 Dr. Jeffrey McDaniel MD, ABOM, FOMA
Dr. Jeffrey McDaniel, MD graduated from the Medical College of Georgia in Augusta with a medical degree. He served as Chief Resident at the Medical Center of Columbus, Georgia, where he completed his family practice residency. Dr. McDaniel is a member of the Obesity Medicine Association, the CME committee, the Obesity Action Coalition, and the Canadian Obesity Network, among other organizations. To top it all off, he is also an American Board of Obesity Medicine Diplomat.
History and Personal Experience
Dr. McDaniel started his practice as a family physician in 1990 and started training in 1983. During that period of time, he was taught to think that obesity is simply a matter of eating too much and exercising too little, a nice way of saying that it's the patient's fault.
Little to people's knowledge, Dr. McDaniel himself suffered from obesity for most of his adult life. These resulted in several consequences of the disease like pre-diabetes, hypertension, sleep apnea, reflux, and arthritis. However at the time, he was following the best dietary advice he had been taught: a low-fat diet. This only helped him lower his cholesterol.
Due to this disease, Dr. McDaniel chose to undergo bariatric surgery. That's when everything shifted in his lifestyle. He also practiced keto diet which he learned to be an important part of recovery and ongoing success.
His surgery was in 2014. He joined the Obesity Medicine Association and took the Board exam for Obesity Medicine the year after. 
So today, he is now practicing exclusively Obesity Medicine and helping patients who suffer from the same disease he had.
Dr. McDaniel specializes in obesity medicine and is focused on providing comprehensive care of patients with obesity. He assesses and treats patients holistically, including lifestyle changes, medication, and care coordination with other providers. He offers in office basal metabolic rate measurement as well as a body composition scale. These methods aid in maximizing fat reduction while avoiding muscle loss, as well as identifying how to change treatment if a patient's weight loss plateaus.
Outside clinic hours, Dr. McDaniel enjoys spending time with family, remodeling, motorcycling and boating.
"I believe everyone should have access to obesity care that is not limited by a person's size, weight, or economic status." – Dr. Jeff McDaniel, MD
Dr. McDaniel is available for in-person consultations at our Newnan and Stockbridge locations.  Telemedicine consultations are also available.