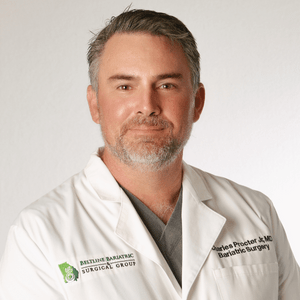 Dr. Charles Procter MD, FACS FASMSB
Dr. Charles Procter is at the heart of what Beltline Health has to offer, providing caring, compassionate, and expert resources to those hoping to lose weight and live a happier, healthier life. Renowned as one of the nation's top bariatric surgeons, Dr. Procter is an expert in minimally-invasive techniques and robotic-assisted surgery practices. In 2008, he became the first surgeon in Georgia to perform a robotic-assisted cholecystectomy. He later performed the first fully robotic bariatric procedures, including sleeve gastrectomy, Roux-en Y gastric bypass, and duodenal switch surgeries.
Dr. Procter has over a decade of experience in bariatric surgery and general surgery and is the founding member of the Beltline Health family starting the practice in 2016.
Watch the weight loss online seminar to qualify for an initial consult with Dr. Procter.
Despite his prowess in the surgical arts, medicine was not always in Dr. Procter's future. The son of a prominent bariatric surgeon, Dr. Procter, never intended to go into medicine and was uninterested in surgery in particular. The long hours his father worked were an early deterrent, to the extent that he was the vice-president of the pre-law society at Miami University of Ohio and played an integral role in establishing the school's first mock trial team. He was also fascinated by Russia's political and cultural landscape and lived in Moscow for a short time.
‍
Despite his other interests, a passion for medicine slowly grew, and he enrolled in a pre-medical program at the University of Georgia in 1995. He excelled in his studies, which led to admission to the Medical College of Georgia School of Medicine. After graduating from medical school, he completed residencies in general surgery at Greenville Hospital System – the University of South Carolina and the University of Kentucky College of Medicine.
‍
During his training, Dr. Procter had his sights set on trauma surgery, a highly specialized field involving surgery under extreme and emergency circumstances. Ultimately, his father was responsible for his change in direction; after discussing at length the benefits of a career in bariatric surgery, Dr. Procter chose to follow in his father's footsteps.
Dr. Procter began practicing in 2007. From his earliest days, innovation was at the forefront of his aspirations. His robotic-assisted surgery success has made him a trusted name in bariatric procedures, offering improved accuracy and recovery for his patients. Throughout his career, he has professed his willingness to go above and beyond, taking measures like making house calls to provide his patients with a lifetime of superior standard care.
In addition to his role at Beltline Health, Dr. Procter has become a household name for his participation in the TLC programs Family By the Ton and 1000lb Sisters, two reality shows that follow the lives of related morbidly obese individuals seeking weight loss and good health. Throughout the seasons, he has helped Naomi, Drew, Chitoka, Amy, and Tammy to lose weight and get started on the path to a better life.
Dr. Charles Procter splits his time between three Beltline Health locations – Atlanta, Newnan, and Stockbridge. He is board-certified in general surgery and holds an active medical license in Georgia. When he is not performing bariatric surgery, he is spending time with his wife and three sons.
Dr. Procter is available for in-person consultations at our Atlanta, Newnan, and Stockbridge locations.  Telemedicine consultations are also available.