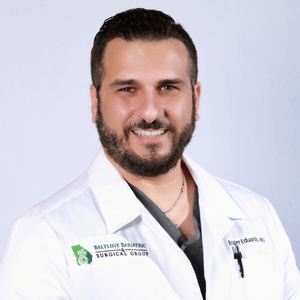 Wearing his board shorts and a T-shirt, Dr. Roger Eduardo didn't look like the stereotypical surgeon while growing up on the beaches of Trinidad and Tobago. His laid-back personality is just one of the many reasons that his patients flock to him. With his down-to-earth attitude, his patients receive more than solutions to their weight loss struggles, but also a confidant who will be with them every step of the way through their weight loss journey.
Dr. Eduardo joined the Beltline Family in September 2019.  Like the rest of Beltline Health's team, Dr. Eduardo is committed to helping patients find weight loss solutions that are safe, effective, and meant for the long term. Dr. Eduardo's non-traditional background, stellar medical education, and surgical training, as well as his approachable demeanor, make him a favorite among his patients.
Moving to the Cold Northeast
During his time at Yale, Dr. Eduardo's focus in the medical field shifted from an appreciation and fascination about biology to being proactive and fixing biological problems. After watching his grandfather lose his battle against metastatic cancer, Dr. Eduardo knew he needed to have the ability to be able to intervene during moments like this and to aid people who were suffering. He no longer wanted to be a bystander and applied for medical school.
Dr. Eduardo attended Emory University School of Medicine. He changed his focus multiple times throughout medical school, always fascinated by the newest rotation and set of medical problems.  Somewhere along the path, he "lost his way," as he puts it, and ended up specializing in surgery. After finishing a grueling 24-hour-long rotation at Grady Hospital, Dr. Eduardo realized he was leaving his shift with a smile on his face and knew surgery was to be his calling. He found that he left each surgery shift proud of the work he had accomplished and excited to come back and do it again. For him, this was an exciting form of instant gratification. With surgery, he could transform the lives of patients within hours and cure illnesses within days.
Throughout it all, though, he still feels like a surfer boy from Trinidad. He remains humble in his medical accomplishments, and talking to him, you might even forget that he is a highly trained surgeon. He notes that his most significant accomplishment is by far becoming a father, and he hopes to one day win the prized trophy of a "Best Dad Ever" mug.
Specializing in Bariatrics
At first, you could say Dr. Eduardo wasn't a staunch believer in weight loss surgery. Like most people in the world, he was initially misinformed and believed the common misconception that chronic obesity was a choice. He believed the older generations of doctors who said "Eat less, Exercise more" was the cure. However, after getting to know a few bariatric patients and digging deeper into the research – it became evident to him how much obesity was a medical disease.
And not just any disease, but THE disease that ends up leading to so many other chronic and life-altering conditions. He realized that by curing obesity, he would help CURE people of their diabetes, hypertension, hyperlipidemia, sleep apnea, and a host of other medical problems that stem from the underlying obesity.
‍
He pursued a bariatric fellowship at Cleveland Clinic Florida and expanded his expertise in advanced laparoscopic and robotic surgery, including sleeve gastrectomy, gastric bypass, bariatric revisional surgery, acid reflux surgery, hernia repairs, as well as advanced endoscopy. Dr. Eduardo is board certified in general surgery and holds an active medical license in Georgia.
Dr. Eduardo continues to try to educate the public about obesity and surgical weight loss. He is currently working on a book with a fellow psychiatrist that delves into the relationship individuals have developed with food since their infancy and how it affects their lives and health.
When he's not performing surgery or meeting with patients, Dr. Eduardo is often just spending time with his growing family. His three biggest passions are fishing (when asked what kind – he'll say "freshwater, saltwater, fly fishing, I'll take whatever I can get"), carpentry (much to his wife's chagrin – a surgeon working with saws and power tools doesn't seem too safe to her) and cooking (especially smoking and barbecuing).
Dr. Eduardo is available for in-person consultations at our Newnan and Stockbridge locations.  Telemedicine consultations are also available.