Weight Loss Surgery Financing
Whether you're interested in gastric bypass, sleeve gastrectomy, the duodenal switch, or a gastric balloon, we're here to help you on every step of your weight loss journey.
We understand that navigating the complex, and often confusing world of medical financing can feel overwhelming – that's why we've prepared this brief overview of the different types of weight loss surgery financing available to our patients.
Where Can I Get Weight Loss Surgery Financing?
There are a variety of options available when it comes to financing bariatric procedures like gastric bypass, sleeve gastrectomy, duodenal switch, and gastric balloon.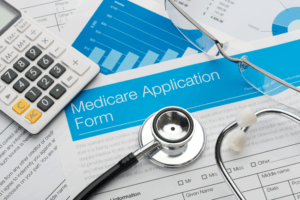 The majority of our patients pay for their weight loss surgery through their private health insurance, however, other options include:
Medicare
A medical loan (secured or unsecured)
Personal line of credit and/or credit card
Life insurance policy loan
Private loans from friends or family members
Cash payments

In some cases, patients combine a variety of funding sources, especially if their insurance provider only offers partial coverage for bariatric surgery.
Will My Insurance Company Pay For Weight Loss Surgery?
Most insurance providers offer either partial, or full coverage for surgical weight loss procedures such as gastric bypass, sleeve gastrectomy, and the duodenal switch. Patients must meet specific criteria and fulfill all of the pre-operative screening and educational requirements.

In order to qualify for insurance coverage, patients need to successfully complete an in-depth approval process that includes an assessment of prior attempts to lose excess weight through lifestyle modification (diet and exercise). Patients also need to have a current body mass index (BMI) of 40 or greater (or over 35 with a comorbid condition), and participate in a pre-surgical weight loss seminar offered through an approved medical weight loss clinic.

Patients seeking weight loss surgery financing through their health insurance must provide a written referral for bariatric surgery from a medical doctor; patients are also required to complete a psychiatric evaluation and a nutritional evaluation. This information will be assessed by insurance adjusters, and if approved, patients can move forward with scheduling their weight loss procedure.
Are There Any Advantages For Self-Payers?
Yes.

Even if you have health insurance, you may want to consider paying out-of-pocket for your bariatric procedure. Paying cash allows you to choose the specific bariatric surgeon you want, instead of being limited to in-network providers.

You'll also get to have your surgery wherever you'd like, and you won't need to navigate the complex and often lengthy insurance pre-approval process. Self-payers don't have to worry about whether or not coverage issues will arise.

If paying out-of-pocket, you may be able to claim bariatric surgery costs, including preoperative and postoperative medical care and FDA-approved medications, on your tax return.
To learn more about weight loss surgery financing, contact us here at Beltline Health. We work with most major insurance providers, and we also accept financing through lenders such as United Medical Financing – a specialized healthcare lender that offers a variety of loan options for bariatric patients.